Grady's Glazed Doughnuts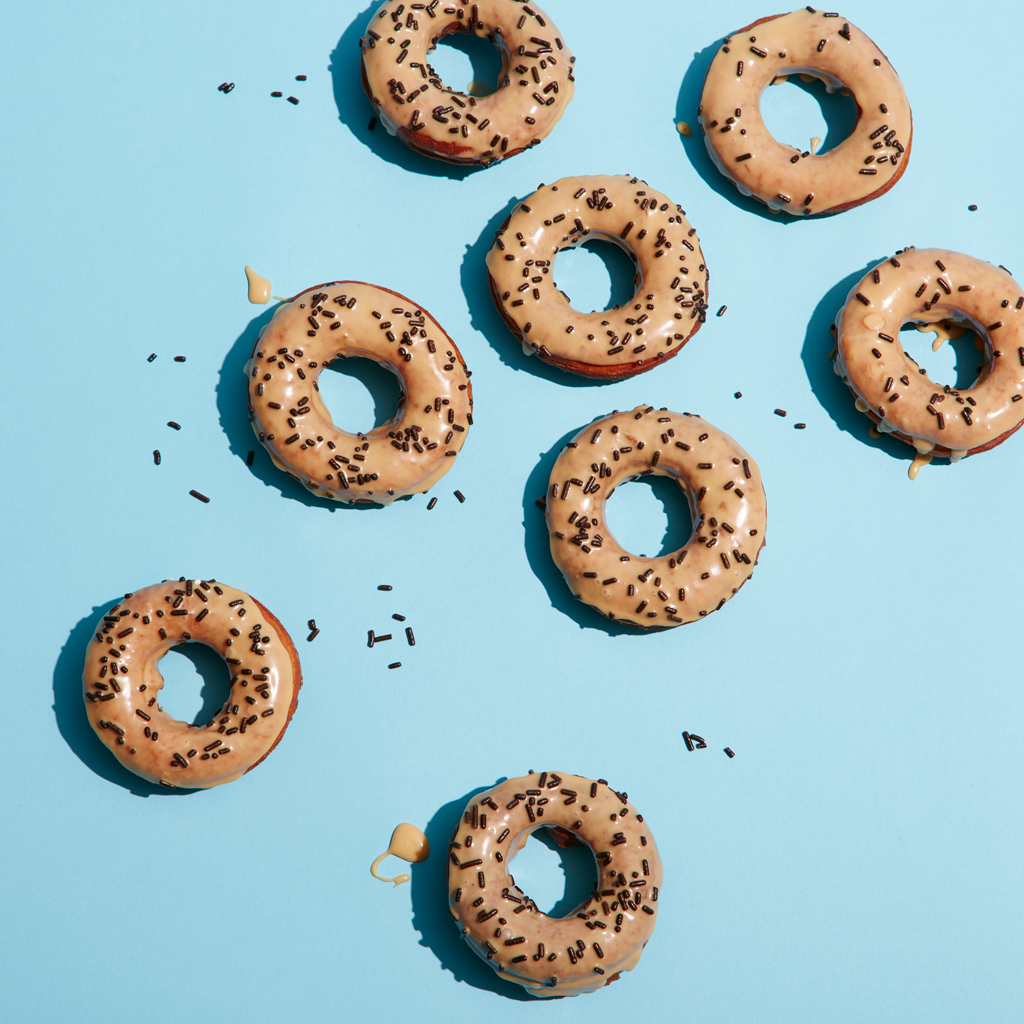 Makes 1½ dozen doughnuts
Doughnuts
5½ Cups All Purpose Flour
Pinch Ground Cinnamon
1 Teaspoon Salt
¼ Cup Sugar
1 Tablespoons Instant Yeast
1½ Cups Whole Milk
4 Tablespoons Melted Butter
2 Eggs
Vegetable Oil (as Needed for Frying)
Coffee Glaze
1 Cup Powdered Sugar
3-4 Tablespoons Grady's Cold Brew
½ Teaspoon Vanilla Extract
Chocolate Sprinkles (as Needed to Finish)
The day before you want to make the doughnuts, make the dough. In the bowl of an electric mixer, mix the flour, cinnamon, salt, sugar, and yeast to combine.
Add the milk, butter, and eggs and mix on low speed for 3 minutes. Raise speed to medium and mix for 2 minutes more.
Transfer the dough into a greased bowl and cover with plastic wrap. Refrigerate overnight.
Pat out the dough to ½ inch thick and use a cookie cutter or the bottom of a glass to cut circles out of the dough. Use a smaller cookie cutter or glass to cut another circle out of the center of each doughnut.
Cover the doughnuts with a clean kitchen towel and let rise for 30-45 minutes. When the doughnuts are almost risen, start heating the oil.
Heat 3 inches of vegetable oil in a large pot. Test if the oil is hot enough by adding a scrap piece of dough to the pot – when it bubbles and rises to the surface, the oil is ready.
Working in batches, fry the doughnuts until golden brown on each side, 7-10 minutes. Remove from the pot and drain on paper towels.
To make the glaze, whisk the powdered sugar, coffee, and vanilla together to combine.
Dunk each doughnut into the glaze, and garnish with sprinkles, if using.