---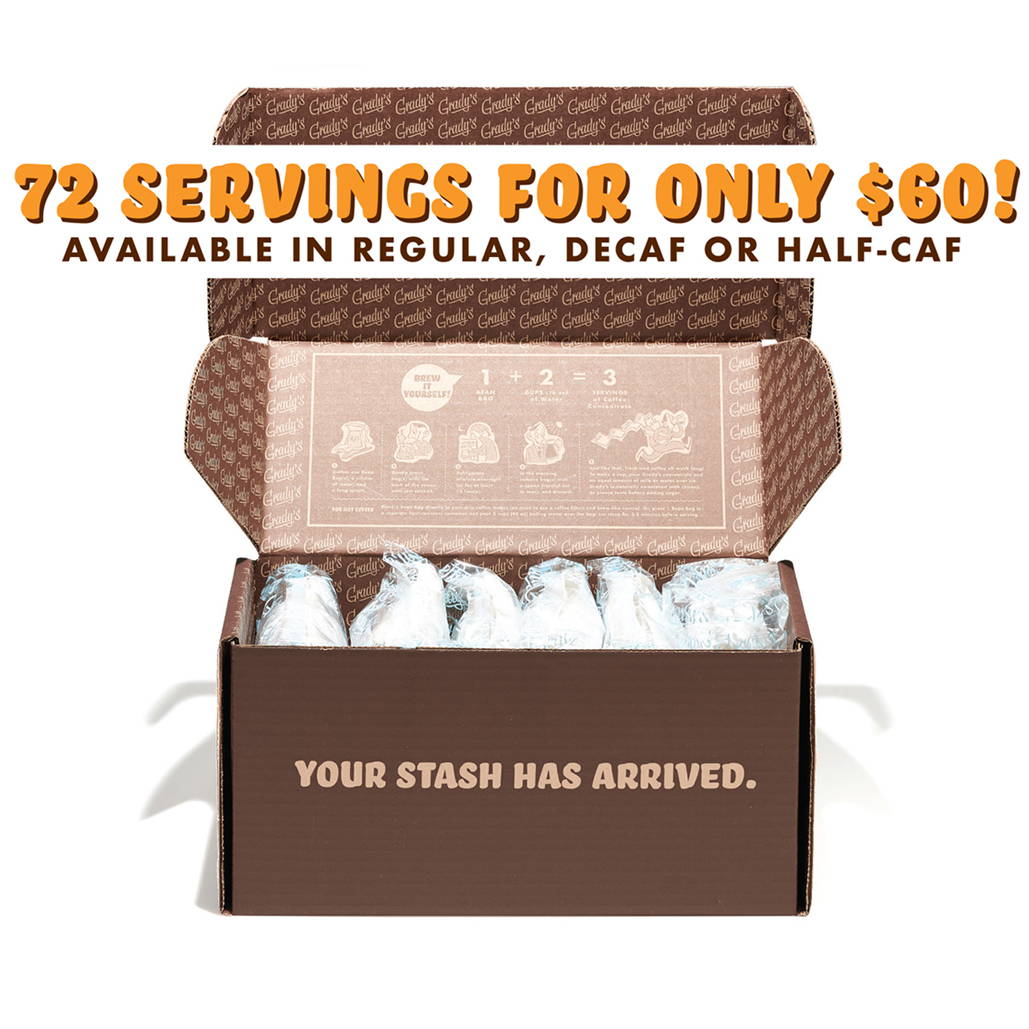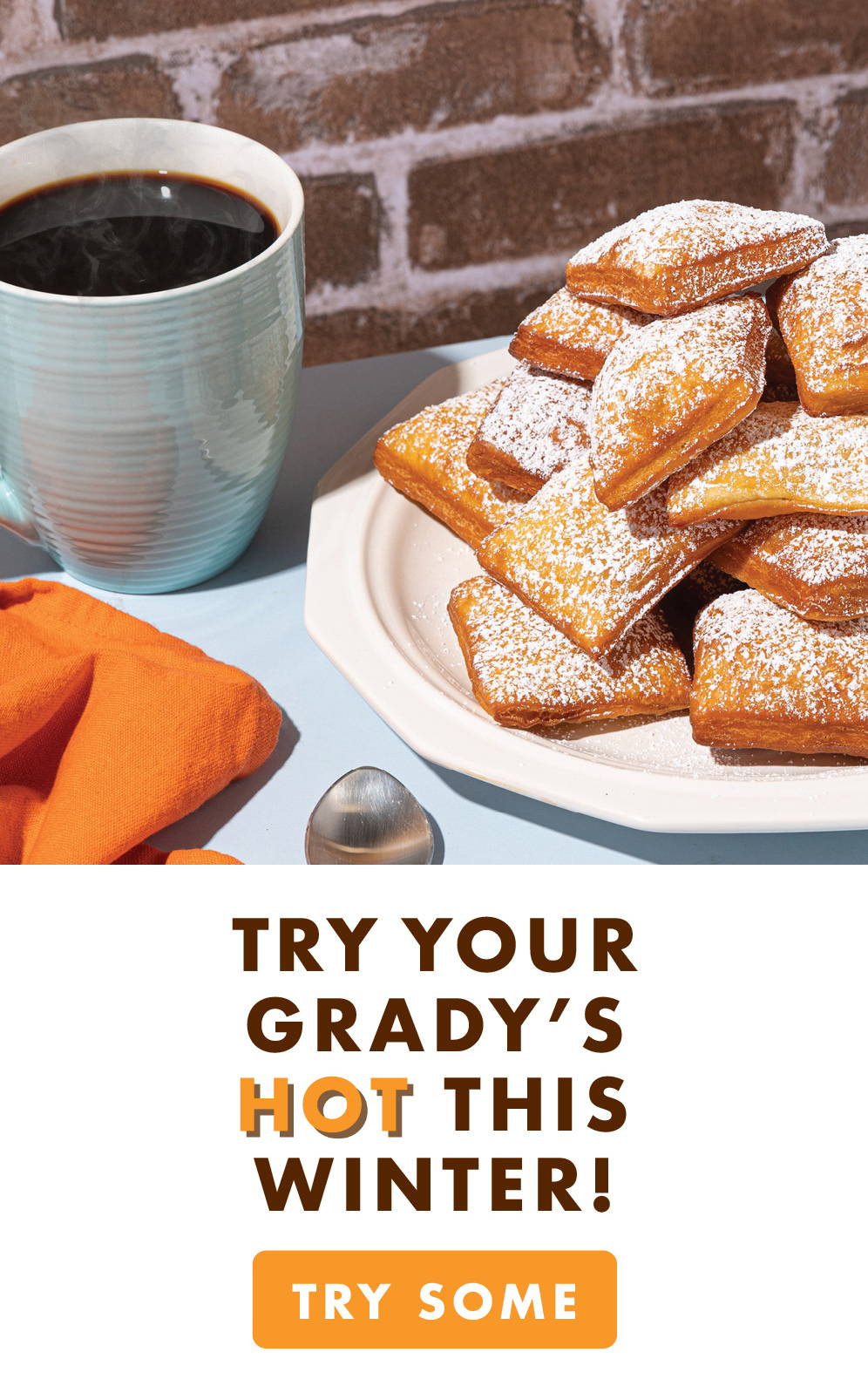 ---
---
BROOKE C. - VERIFIED BUYER
"I normally purchase the bean bags to make in my own pitcher and I usually have to make new Grady's every few days. The box is my new favorite, it looks good in the fridge, doesn't leak and tastes great. Winner winner chicken dinner!"
JEAN B. - VERIFIED BUYER
"After the "after times", we'll still choose to stay in and enjoy our morning cold brew at home. We save so much money and Grady's is a waaay tastier cup o joe"
SUSAN K. - VERIFIED BUYER
"Grady's is great coffee and it's easy and economical. What's not to love."
LISA - VERIFIED BUYER
"Your coffee has gotten me through the pandemic. Every day, I make one large cup of Grady's iced coffee and it is absolutely delicious! Best coffee I've ever had. And I'm not usually a coffee drinker!"
MERIL F. - VERIFIED BUYER
"Hearty flavorful cold brew with just the right amount of chicory."
LISA L. - VERIFIED BUYER
"I only drink Grady's. Literally every day. My only complaint is it's so good I no longer can drink anything else. I take it with me when I travel...."
SUSAN B. - VERIFIED BUYER
"I adore your coffee! It's like an elixir. I take a sip and all is right with the world."
CAROLYN E. - VERIFIED BUYER
"I've been loving these cold brew bags, especially helpful during COVID where I'm trying to avoid going out for coffee (or anything) when I can. They're super easy and make a great cold brew concentrate. Love mixing mine with oat milk. 10/10 would buy again :)"
JEFF S. - VERIFIED BUYER
"Grady's is the best cold brew available! High quality, easy shipment, easy to store and make. It has been a game changer for getting my coffee this year!"
JOSEPH A. - VERIFIED BUYER
"Grady's cold brew is delicious! Great coffee plus just enough spice to give it a smooth, tasty finish. And the box makes it very easy to pour without taking up as much room in my fridge."
ERIKA S. - VERIFIED BUYER
"Best tasting cold brew ever. Only downside is that you can't go back to other coffee after Grady's"
KRISTEN B. - VERIFIED BUYER
"I seriously love this coffee. Easy to make and you can tell by the flavor that it's great quality coffee. I make a batch for the week. Anyone I introduce it to loves it too!"
JESSICA R - VERIFIED BUYER
"This is the best coffee out there! My office used to have it, back in good old 2019. I brew it at home in 2020. At least the coffee in 2020 can be fantastic."
HELENE P. - VERIFIED BUYER
"Honestly I'm a coffee snob and hate most iced coffee/cold brew. Still have not figured out how to make it right at home. Grady's is by far the most delicious and im so happy I stumbled upon them! Plus free shipping in the city?! Can't beat it. Would highlyyyy recommend!"
EMILY S. - VERIFIED BUYER
"This cold brew has really been a highlight of this summer! It's so easy to dispense and delicious. We subscribed and the delivery process has been great!"
ERIC L. - VERIFIED BUYER
"Been drinking the New Orleans blend for years and happy I began ordering the "bag in a box" during quarantine. Less trips to the store and loving the same or next-day local delivery. Great concept and great service."
NICOLE O. - VERIFIED BUYER
"Your coffee, in any form, hot or cold, caffeinated/decaf is unreal. I brag about you guys as if you're my gold medal kid haha. So ——- good. Just keep on producing & I will keep on drinking. Take care, hugs & THANK YOU!!"
ELIZABETH F. - VERIFIED BUYER
"The original flavor New Orleans style Grady's cold brew is my all time favorite coffee. The flavor is rich and the color is dark making it incredibly satisfying. I can not recommend this product enough!!"