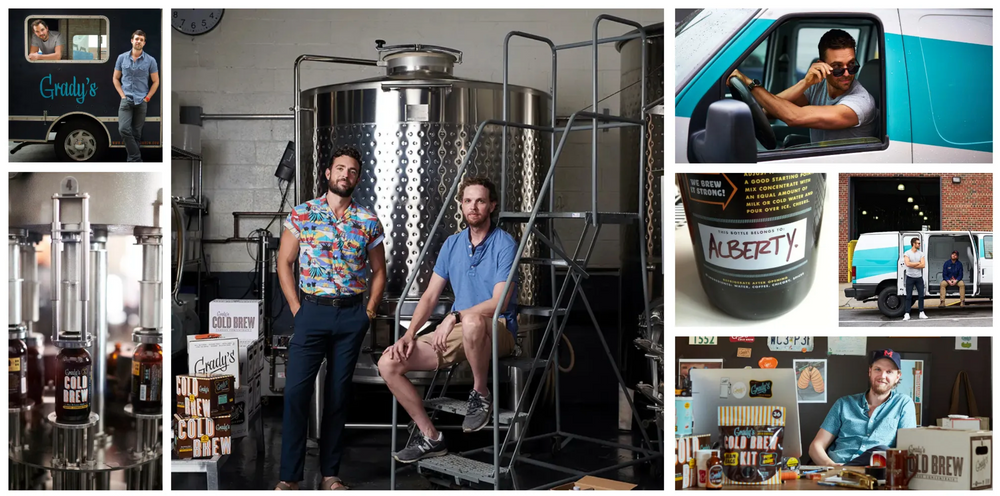 How it all started...
It all started when Grady, a former GQ employee, began selling his signature cold brew coffee in the elevator banks at Conde Nast. People quickly became obsessed with his brew, and demand grew to the point where Grady eventually quit his day job to focus solely on the coffee business.
Grady's Cold Brew has come a long way since then. Along with co-founders Dave and Kyle, Grady has built the company from the ground up, starting in a Brooklyn kitchen and eventually moving to a state-of-the-art 15,000 sq. ft. brewery in the Bronx.
What is Grady's Cold Brew?
It is cold brewed which is a very slow method where coffee is steeped in cool water to develop rich flavors with lower acidity. We brew for 20 hours.
It is New Orleans–Style which is a classic coffee style brewed with a special blend of spices and chicory. Naturally sweeter and more flavorful than plain coffee.
One of its ingredients is chicory, which is the root of the Endive plant (yes, the one you find in salads). It gives coffee a natural, subtle sweetness.
Above all it is coffee and our special blend is 100% Arabica beans, roasted specifically for cold brew!
Why is Grady's better than other cold brews?
While most cold brews are just coffee and water, Grady's is brewed with imported French chicory and spices, a centuries-old coffee hack that brings out coffee's natural sweetness. So Grady's doesn't have or need sugar to taste great... and it's still under 15 calories per serving!
Comparing Grady's to other coffees, even in the refrigerator case, is like comparing fresh fruit to canned goods. To extend shelf life, other cold brews are heavily filtered or pasteurized at an ultra-high temperature, which can make them taste watered down, sour, and burnt.
So whether you like it black, white, or hundreds of other ways, you'll always enjoy a delicious coffee taste anyway you mix it.